Steeply Discounted Comics and Books Listing!
next email newsletter May 1, 2009
Howdy!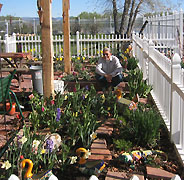 Chuck and Flower Garden
(click on image for larger view)

In a near complete reversal of the weather from Monday, today is bright, sunny, and already nice and warm at 8 AM. All our snow from Monday has melted, and the ground is moderately dry. That provides me with a brief window of opportunity to quickly mow some of our acreage, before the grass becomes so tall that even my huge industrial mower can't get through. I'm not entirely sure how this all really works, as our pastures can be almost completely bare one day in early spring, and then knee-high the next. Without belaboring the obvious, the fact that we've had six inches of moisture from rain and snow over the past three weeks is probably a big contributing factor. Whatever the case, it is supposed to cool off again tomorrow, with rain for the weekend, so I'm going to mow as much as I can today. Presuming that it does rain on either Saturday or Sunday, I'll make up the time I'm missing at the office today over the weekend.


While I'm desperately trying to stay ahead of the game here at our farm, our staff at Mile High Comics is plenty busy. For starters, we've been getting just buried in orders from the BARGAINS codeword sale. With all of our back issue comics and magazines on our website discounted to 60%-90% off right now, and the BARGAINS codeword then providing an additional 30% off, we're ending up selling a huge array of comics for less than $2 each (please keep in mind the codeword does not apply to new comics, Dallas Stephens comics, trade paperbacks, hard covers, graphic novels, statues, or supplies). I can't even begin to describe how many orders that I've seen over the past couple of days for 100+ comics. Those big orders oftentimes end up only generating about $1 per comic in revenues, but even though we're generating nearly zero profit on those orders, I can still live with that figure. My primary goal right now is simply to keep comics collecting affordable for everyone, and the BARGAINS codeword seems to be a great tool that is helping me accomplish that goal. If you have yet to check out just how low our prices are right now, you really should. I seriously doubt if you will find any less expensive a way to have a really good time...


Marvel Comics OnSale
DC Comics OnSale
Dark Horse Comics OnSale
Image Comics OnSale
Trade Paperbacks and Hardbacks OnSale


Aside from filling orders, our inventory teams are also grading and entering huge numbers of trade paperbacks and hardbacks into our website inventory. Over 1,000 books were added to our online inventory yesterday, with another 1,000 being added today. Included in these numbers is a special 500-book shipment of brand new trades and hardbacks directly from Diamond Distribution's new warehouse in Mississippi. Thanks to the timely arrival of this great new shipment of books, we were able to restock a slew of titles that have been out-of-stock for quite some time. Suffice it to say, today is an excellent opportunity for you to work on building your library. For best results, however, you should order quickly!


Well, that's it for today. My mower awaits me, and I have over 3 acres to try and get done before dark. Wish me luck...


Happy Collecting!

Chuck Rozanski,
President - Mile High Comics, Inc.
Advance Previews
of next weeks comics from
Archie Comics

PS: I forgot to mention earlier that all of our Marvel and DC trade paperbacks are still on sale at a minimum of 40% off, with the rest of our trades on sale at least at 30% off. We also have quite a few trades on steep discount sale at 40%-50% off. Our hardbacks are all a minimum of 20% off, with a nice selection at 30%-50%. The listing of all the books that we've added this week is below. It is immense!

Trade paperbacks and hardbacks from this week:

100 PERCENT HC (2009) #1
1980 COMICS ANNUAL #1
ABOMINATIONS TPB (1990) #1
ABRAHAM STONE GN #1
ABSOLUTE BATMAN THE LONG HALLOWEEN HC (2006) #1
ABSOLUTE KINGDOM COME EDITION HC (2006) #1
ABSOLUTE RONIN HC (2008) #1
ABSOLUTE SUPERMAN FOR TOMORROW HC (2009) #1
ADVENTURERS QUEST TPB (1990) #3
ADVENTURES OF BLAKE & MORTIMER #1
ADVENTURES OF BLAKE & MORTIMER #2
ADVENTURES OF ROCCO VARGAS: TRITON #1
ADVENTURES OF YOKO, VIC & PAUL: VULCAN'S FORGE #1
AGE OF BRONZE: SACRIFICE TPB (VOL. 2) (2005) #1 3RD PRINT
AGENT 13: ACOLYTES OF DARKNESS #1
AGENT 13: MIDNIGHT AVENGER #1
AGENTS OF ATLAS TPB (2009) #1
ALADDIN EFFECT GN (1985) #1
ALEX RAYMOND'S FLASH GORDON HC (2004) #1 3RD PRINT
ALIEN LEGION: A GREY DAY TO DIE GN (1986) #1
ALIEN: ILLUSTRATED STORY #1
ALIENS BOOK I TPB (1990) #1 REMASTERED
ALIENS OMNIBUS TPB (2007) #4
ALIENS OMNIBUS TPB (2007) #5
ALIENS OMNIBUS TPB (2007) #6
ALIENS: GENOCIDE TPB (1992) #1
ALIENS: HARVEST TPB (1998) #1
ALIENS: HIVE COLLECTION (1993) #1 SC 2ND PRT
ALL-STAR BATMAN AND ROBIN THE BOY WONDER HC (2008) #1
ALL-STAR SUPERMAN HC (2006) #2
ALPHA FLIGHT CLASSIC TPB (2007) #1
AMAZING FANTASY OMNIBUS HC (2007) #1
AMAZING SPIDER-GIRL TPB (2007) #1
AMAZING SPIDER-GIRL TPB (2007) #2
AMAZING SPIDER-GIRL TPB (2007) #3
AMAZING SPIDER-MAN: COMING HOME TPB (2001) #1 2ND PRINT
AMAZING SPIDER-MAN: NEW AVENGERS TPB (VOL. 10) (2005) #1
AMAZING SPIDER-MAN: REVELATIONS TPB (2002) #1 2ND PRINT
AMAZING SPIDER-MAN: UNTIL THE STARS TURN COLD TPB (2002) #1
AMERICA AT WAR: BEST OF DC WAR GN (FIRESIDE) (1979) #1 HC
AMERICAN FLAGG! HARD TIMES GN (1985) #1 2ND PRINT
AMERICAN FLAGG! SOUTHERN COMFORT #1
AMERICAN WAY TPB (2006) #1
ANIMAL MAN TRADE PAPERBACK #1 4TH PRINT
ANIMAL MAN: DEUS EX MACHINA TPB (VOL. 3) (2003) #1 2ND PRINT
ANIMAL MAN: ORIGIN OF THE SPECIES TPB (VOL. 2) (2002) #1 2ND PRINT
ANITA BLAKE HC (2007) #2
ANITA BLAKE TPB (2008) #1
ANITA BLAKE: LAUGHING CORPSE - ANIMATOR HC (2009) #1
ANITA BLAKE: LAUGHING CORPSE - ANIMATOR HC (2009) #1 VARIANT
ANNIHILATION CLASSIC HC (2008) #1
ANNIHILATION CONQUEST HC (2008) #1
ANNIHILATION CONQUEST HC (2008) #2
ANNIHILATION CONQUEST TPB (2008) #1
ANNIHILATION HC (2006) #3
ANNIHILATION TPB (2007) #1
ANNIHILATION TPB (2007) #2
ANNIHILATION TPB (2007) #3
APE GN (1986) #1
APES AND BABES: ART OF FRANK CHO HC (2009) #1
APOCALYPSE: THE EYES OF DOOM #1 HC
AQUABLUE: BOOK ONE (1988) #1
ARCHIE: HIGH SCHOOL CHRONICLES TPB (2009) #1
ARIA TAKES OFF HC #1
ARMAGEDDONQUEST TPB (1997) #1
ARMAGEDDONQUEST TPB (1997) #3
ARMY OF DARKNESS/XENA TPB (2009) #1
ART OF METAL GEAR SOLID GN (ASHLEY WOOD) (2009) #1 SC
ART OF STEVE WORON #1
ART OF STEVE WORON #1 SIGNED
ART OF STEVE WORON #1
ASTERIX THE LEGIONARY TPB (2005) #1 4TH PRINT
ASTONISHING X-MEN: DANGEROUS TPB (VOL. 2) (2005) #1
ASTONISHING X-MEN: GIFTED TPB (VOL. 1) (2004) #1
ASTONISHING X-MEN: TORN TPB (VOL. 3) (2006) #1
ASTONISHING X-MEN: UNSTOPPABLE TPB (VOL. 4) (2008) #4
ASTOUNDING WOLF-MAN TPB (2008) #2
ATTU: DURENELLA GN (BOOK 2) (1990) #1 SC
ATTU: FORBIDDEN CAVE #1
ATTU: FORBIDDEN CAVE #1 HC
ATTU: FORBIDDEN CAVE #1 S&N HC
ATTU: FORBIDDEN CAVE #1
AVENGERS DISASSEMBLED TPB (2005) #1 2ND PRINT
AVENGERS DISASSEMBLED: CAPTAIN AMERICA TPB (2004) #1
AVENGERS DISASSEMBLED: IRON MAN TPB (2004) #1
AVENGERS DISASSEMBLED: THOR TPB (2004) #1
AVENGERS/DEFENDERS WAR PREMIERE HC (2007) #1 VARIANT
AVENGERS/DEFENDERS WAR PREMIERE HC (2007) #1
AVENGERS: CELESTIAL MADONNA TPB (2002) #1
AVENGERS: EMPEROR DOOM GN (1987) #1
AVENGERS: INITIATIVE PREMIERE HC (2007) #1
AVENGERS: INITIATIVE PREMIERE HC (2007) #2
AVENGERS: KREE/SKRULL WAR TPB (2008) #1
BACK DOWN THE LINE GRAPHIC NOVEL #1
BAD COMPANY GN (1987) #1 SC
BATCAVE COMPANION SC (2009) #1
BATGIRL: KICKING ASSASSINS TPB (2005) #1
BATGIRL: YEAR ONE TPB (2003) #1 3RD PRINT
BATMAN AND THE OUTSIDERS TPB (2008) #2
BATMAN: ABSOLUTION COLLECTION (2002) #1 SC
BATMAN: ANARKY TPB #1
BATMAN: BATMAN & SON TPB (2008) #1 3RD PRINT
BATMAN: BLACK & WHITE TPB (2007) #2
BATMAN: BLIND JUSTICE TRADE PAPERBACK #1
BATMAN: CONTAGION TPB #1 3RD PRINT
BATMAN: DARK JOKER-THE WILD TPB #1
BATMAN: DARK KNIGHT DYNASTY TPB #1
BATMAN: DARK VICTORY TPB (2002) #1 4TH PRINT
BATMAN: FOUR OF A KIND TPB #1
BATMAN: HAUNTED GOTHAM TPB (2009) #1
BATMAN: JEKYLL & HYDE TPB (2008) #1
BATMAN: JOKER'S ASYLUM TPB (2008) #1
BATMAN: OFFICIAL BOOK OF THE MOVIE (1989) #1
BATMAN: OFFICIAL BOOK OF THE MOVIE (1989) #1 2ND PRINT
BATMAN: OFFICIAL BOOK OF THE MOVIE (1989) #1 HC 2ND PRT
BATMAN: OFFICIAL BOOK OF THE MOVIE (1989) #1
BATMAN: RIP DELUXE HC (2008) #1
BATMAN: STRANGE DEATHS OF BATMAN TPB (2008) #1
BATMAN: THE MAN WHO LAUGHS HC (2007) #1
BATTLESTAR GALACTICA: ORIGINS - ADAMA TPB (2008) #1
BEST COMICS OF THE DECADE TPB #1
BEST OF ASYLUM TPB #1
BEYOND TPB (2008) #1
BLAB! GN (2000) #8
BLACK MIST: ANGUSH OF THE MIST TPB (1995) #1
BLACK PANTHER: BACK TO AFRICA TPB (2008) #1
BLACK PANTHER: CIVIL WAR TPB (2007) #1
BLACK PANTHER: THE CLIENT TPB (2001) #1
BLADE: UNDEAD AGAIN TPB (2007) #1
BLEACH GN (2004) #1
BLOODLORE GN #1
BLUE BEETLE: BOUNDARIES TPB (VOL. 5) (2009) #1
BOOK OF GHOULS (1997) #1
BOYS TPB (2006) #3
BOYS: GET SOME TPB (VOL. 2) (2008) #1 2ND PRINT
BPRD: A PLAGUE OF FROGS TPB (VOL. 3) (2004) #1 3RD PRINT
BPRD: GARDEN OF SOULS TPB (VOL. 7) (2007) #1 2ND PRINT
BPRD: HOLLOW EARTH & OTHER STORIES GN (2004) #1 TPB 6THPRT
BPRD: SOUL OF VENICE AND OTHER STORIES TPB (VOL. 2) (2004) #1 2ND PRINT
BPRD: UNIVERSAL MACHINE TPB (VOL. 6) (2006) #1 2ND PRINT
BPRD: WARNING TPB (2009) #1
BREAKTHROUGH #1
BRER RABBIT GN (ARTHUR SUYDAM) (1988) #1
BROOKLYN DREAMS #2
BULLWINKLE AND ROCKY TPB (1992) #1
BURTON & CYB GN #1
CABLE HC (2008) #1
CABLE/DEADPOOL: BOSOM BUDDIES TPB (VOL. 4) (2006) #1
CAPTAIN AMERICA: CHOSEN HC (2008) #1
CAPTAIN AMERICA: CHOSEN HC (2008) #1 SIGNED
CAPTAIN AMERICA: OPERATION REBIRTH TPB (2008) #1
CAPTAIN AMERICA: RED MENACE TPB (2006) #1
CAPTAIN AMERICA: RED MENACE TPB (2006) #2
CAPTAIN AMERICA: WAR & REMEMBRANCE TPB (2007) #1
CAPTAIN BRITAIN AND MI 13: SECRET INVASION TPB (VOL. 1) (2009) #1
CAPTAIN MARVEL: SECRET INVASION PREMIERE HC (2008) #1
CARNOSAUR CARNAGE #1
CHALLENGERS OF THE UNKNOWN: STOLEN MOMENTS/BORROWED TPB (2006) #1
CHEECH WIZARD GN (1990) #2
CHOPPER: SONG OF THE SURFER #1
CHRONICLES OF CONAN: CREATION QUEST TPB (VOL.17) (2009) #1
CHRONICLES OF WORMWOOD: LAST ENEMY GN (2007) #1
CITY PEOPLE NOTEBOOK TPB #1
CLANDESTINE: BLOOD RELATIVE PREMIERE HC (2008) #1
CLASSIC STAR WARS: A LONG TIME AGO #3
CLASSIC STAR WARS: A LONG TIME AGO #4
CLASSIC STAR WARS: EMPIRE STRIKES BACK TPB #1
CLASSICS ILLUSTRATED: RAVEN AND OTHER POEMS HC (2009) #1
CODE XIII: ALL THE TEARS OF HELL #1
CODE XIII: WHERE THE INDIAN WALKS #1
COMIC RELIEF: THANKSGIVING DAY HUNGER PROJECT TPB (1986) #1
COMPANIONS OF THE DUSK #1
COMPLETE CRUMB COMICS GRAPHIC NOVEL #2 S&N HC
COMPLETE POGO COMICS: DIGGIN' FO' SQUARE ROOTS #1
COMPLETE POGO COMICS: DREAMIN OF A WIDE CATFISH (VOL.4) (1990) #1
CONNIE TPB #1
COSMIC ODYSSEY TRADE PAPERBACK #1 2ND PRINT
COUNTER CULTURE #1
COUNTER X TPB (2008) #1
COUNTER X TPB (2008) #2
CREATING THE X-MEN (2000) #1
CRIMINAL TPB (2007) #1
CRIMINAL TPB (2007) #2
CRIMINAL TPB (2007) #3
CRISIS ON INFINITE EARTHS ABSOLUTE EDITION HC (2005) #1
CRISIS ON MULTIPLE EARTHS TPB (2002) #1 2ND PRINT
CROSSING MIDNIGHT TPB (2007) #2
CROW THE MOVIE TPB (1994) #1
CRYING FREEMAN: SHADES OF DEATH GN (1992) #1
CRYING FREEMAN: SHADES OF DEATH GN (1992) #2
CTRL+ALT+DEL TPB (2009) #1
CURSE OF THE WERE-WOMAN GN (2008) #1
DAREDEVIL AND THE PUNISHER: CHILD'S PLAY TPB #1 2ND PRT
DAREDEVIL BY BENDIS OMNIBUS HC (2008) #1
DAREDEVIL: DEVIL INSIDE & OUT TPB (2006) #1
DAREDEVIL: DEVIL INSIDE & OUT TPB (2006) #2
DAREDEVIL: GUARDIAN DEVIL TPB (VOL. 1) (2003) #1 6TH PRINT
DAREDEVIL: HELL TO PAY TPB (VOL. 2) (2008) #1
DAREDEVIL: LOVES LABOR LOST TPB (2002) #1
DAREDEVIL: MURDOCK PAPERS TPB (VOL. 13) (2006) #1
DARK TOWER: GUNSLINGER BORN PREMIERE HC (2007) #1
DARK TOWER: LONG ROAD HOME HC (2008) #1
DARK TOWER: TREACHERY PREMIERE HC (2009) #1
DARKNESS DELUXE COLLECTED EDITION #1
DARKNESS VS. EVA TPB (2009) #1
DAZZLER: THE MOVIE GN (1984) #1
DC COMICS CLASSICS LIBRARY: BATMAN ANNUALS (VOL. 1) (2009) #1
DC GRAPHIC NOVELS (1983) #1
DC SCIENCE FICTION GRAPHIC NOVEL (1985) #7
DC UNIVERSE ILLUSTRATED BY NEAL ADAMS HC (2008) #1
DEAD OF NIGHT FEATURING MAN-THING TPB (2008) #1
DEADPOOL VS. MARVEL UNIVERSE TPB (2008) #1
DEATH OF SUPERMAN TPB #1
DEATH: HIGH COST OF LIVING TPB (1994) #1 10TH PRINT
DECIMATION X-MEN: DAY AFTER TPB (2006) #1
DECIMATION: SON OF M TPB (2006) #1
DECIMATION: X-MEN - 198 TPB (2006) #1
DEEP CITY (EVARISTO) GN #1
DESERT STREAMS GN #1
DISNEY COMICS ALBUM SERIES GN (1990) #5
DISTANT SOIL: THE ARIA TPB (VOL. 3) (2001) #1
DISTRICT X: UNDERGROUND TPB (VOL. 2) (2005) #1
DMZ: BLOOD IN THE GAME TPB (VOL. 6) (2009) #1
DMZ: ON THE GROUND TPB (VOL. 1) (2006) #1 2ND PRINT
DMZ: PUBLIC WORKS TPB (VOL. 3) (2007) #1 2ND PRINT
DOCTOR STRANGE: OATH TPB (2007) #1
DOCTOR WHO ANNUAL HC U.K. #1985
DOCTOR WHO TECHNICAL MANUAL #1
DON MARTIN'S DROLL BOOK (1992) #1 TPB
DOWN AND OUT DAWG TREASURY BONANZA GN (1993) #1
DOWNTIME GN #1
DRACULA: AN ILLUSTRATED ADAPTATION TPB (1990) #1
DREAMWALKER GN #1
EARLY DAYS OF THE SOUTHERN KNIGHTS #2
EARTH X TPB (2ND EDITION) (2006) #1
ELEKTRA: FRENZY TPB (VOL. 4) (2004) #1
ELRIC OF MELNIBONE GN #1
EPIC GRAPHIC NOVEL: BLUEBERRY #3
ERMA JAGUAR #2
ESSENTIAL CAPTAIN AMERICA TPB #1
ESSENTIAL CLASSIC X-MEN TPB (2006) #2
ESSENTIAL DAREDEVIL 2ND EDITION TPB (2005) #1
ESSENTIAL DAZZLER TPB (2007) #2
ESSENTIAL DOCTOR STRANGE TPB (2001) #2
ESSENTIAL DOCTOR STRANGE TPB (2001) #3
ESSENTIAL DOCTOR STRANGE TPB 2ND EDITION (2006) #1
ESSENTIAL FANTASTIC FOUR 2ND EDITION TPB (2005) #1
ESSENTIAL FANTASTIC FOUR 2ND EDITION TPB (2005) #4
ESSENTIAL FANTASTIC FOUR 3RD EDITION TPB (2008) #1
ESSENTIAL FANTASTIC FOUR TPB #2 5TH PRINT
ESSENTIAL FANTASTIC FOUR TPB #6
ESSENTIAL FANTASTIC FOUR TPB #7
ESSENTIAL GHOST RIDER TPB (2005) #1
ESSENTIAL GHOST RIDER TPB (2005) #2
ESSENTIAL HULK TPB (2ND EDITION) (2006) #1
ESSENTIAL IRON MAN TPB #2
ESSENTIAL MAN-THING TPB (2006) #2
ESSENTIAL MOON KNIGHT TPB (2006) #1
ESSENTIAL MOON KNIGHT TPB (2006) #2
ESSENTIAL OFFICIAL HANDBOOK OF THE MARVEL UNIVERSE TPB (2005) #2 MASTER ED
ESSENTIAL OFFICIAL HANDBOOK OF THE MARVEL UNIVERSE TPB (2005) #3 MASTER ED
ESSENTIAL PUNISHER TPB (2004) #2
ESSENTIAL PUNISHER TPB (2ND EDITION) (2006) #1
ESSENTIAL RAMPAGING HULK TPB (2008) #1
ESSENTIAL SILVER SURFER TPB #2
ESSENTIAL SPIDER-MAN 2ND EDITION TPB (2005) #1
ESSENTIAL SPIDER-MAN 2ND EDITION TPB (2005) #2
ESSENTIAL SPIDER-MAN 2ND EDITION TPB (2005) #3
ESSENTIAL SPIDER-MAN 2ND EDITION TPB (2005) #4
ESSENTIAL SPIDER-MAN TPB #6
ESSENTIAL SPIDER-MAN TPB #7
ESSENTIAL SPIDER-MAN TPB #8
ESSENTIAL THOR 2ND EDITION TPB (2005) #1
ESSENTIAL THOR 2ND EDITION TPB (2005) #2
ESSENTIAL WOLVERINE 2ND EDITION TPB (2005) #1
ESSENTIAL X-MEN TPB #3 4TH PRINT
ESSENTIAL X-MEN TPB #3 5TH PRINT
ESSENTIAL X-MEN TPB #6
ESSENTIAL X-MEN TPB #7
ESSENTIAL X-MEN TPB #8
ESSENTIAL X-MEN TPB 2ND EDITION (2005) #1
ESSENTIAL X-MEN TPB 2ND EDITION (2005) #2
ESSENTIAL X-MEN TPB 2ND EDITION (2005) #4
ESSENTIAL X-MEN TPB 2ND EDITION (2005) #5
ETERNALS BY JACK KIRBY TPB (2008) #1
ETERNALS BY NEIL GAIMAN TPB (2008) #1
EX-MUTANTS GRAPHIC NOVEL OF THE SHATTERED EARTH TPB (1988) #1 2ND PRINT
EX-MUTANTS: GODS OR MEN TPB #1
EXCALIBUR CLASSIC: CROSSTIME CAPER BOOK 2 TPB (VOL. 4) (2007) #1
EXILES: ENEMY OF THE STARS TPB (VOL. 15) (2007) #1
FALL OF CTHULHU: GODWAR TPB (2008) #1
FALLEN SON: DEATH OF CAPTAIN AMERICA TPB (2008) #1
FANTASTIC FIVE TPB (2007) #1
FANTASTIC FOUR: BEGINNING OF THE END TPB (2008) #1
FANTASTIC FOUR: THE END TPB (2008) #1
FAREWELL TO THE GIPPER #1
FASTNER & LARSON'S LITTLE BLACK BOOK TPB (2003) #3
FILES MAGAZINE: DOCTOR WHO ICE WARRIORS #1
FILES MAGAZINE: STAR TREK UNDISC: DAGGER OF THE MIND #1
FISH POLICE: HAIRBALLS TPB (1987) #1
FLASH: FULL THROTTLE TPB (2007) #1
FOOLKILLER: FOOL'S PARADISE TPB (2008) #1
FORGE TPB (2002) #2
FORGOTTEN REALMS: DARK ELF TRILOGY OMNIBUS (2007) #2
FRAGILE PROPHET GN (2006) #1
FRANKENSTEIN GN #1
FREAKANGELS TPB (2008) #2
FREDDY'S DEAD: THE FINAL NIGHTMARE TPB #1
FRIENDLY NEIGHBORHOOD SPIDER-MAN TPB (2006) #1
FUTURIANS GN (1983) #1
GAMBIT CLASSIC TPB (2009) #1
GATE OF IVREL: CLAIMING RITES GN (1987) #1
GATE OF IVREL: FEVER DREAMS GN #1
GET ME A TABLE WITHOUT FLIES, HARRY #1
GHOST OMNIBUS TPB (2008) #2
GHOST RIDER: LIFE & DEATH OF JOHNNY BLAZE TPB (VOL. 2) (2007) #1
GHOST RIDER: TRAIL OF TEARS PREMIERE HC (2007) #1
GHOST RIDER: TRAIL OF TEARS TPB (2008) #1
GHOST RIDER: VICIOUS CYCLE TPB (VOL. 1) (2006) #1
GI JOE: BEST OF LARRY HAMA HC (2009) #1
GIRLS OF GAMING (2009) #1
GLADSTONE COMIC ALBUM SERIES GN (1989) #20
GLADSTONE COMIC ALBUM SERIES GN (1989) #22
GLADSTONE COMIC ALBUM SERIES GN (1989) #23
GLADSTONE GIANT ALBUM VOL. #1
GLADSTONE GIANT ALBUM VOL. #2
GODS IN CHAOS #1
GORE SHRIEK DELECTUS GN (1989) #1
GREATEST BATMAN STORIES EVER TOLD TRADE PAPERBACK (1988) #1
GREEN ARROW: CITY WALLS TPB (2005) #1
GREEN CANDLES GN (1995) #1
GREEN CANDLES GN (1995) #2
GREEN LANTERN CHRONICLES TPB (2009) #1
GREEN LANTERN: REVENGE OF THE GREEN LANTERNS TPB (2008) #1
GREEN LANTERN: THE SINESTRO CORPS WAR COLLECTION (2008) #1 SC
GREENBERG THE VAMPIRE GN (VOL. 20) (1986) #1
GREENBERG'S GUIDE TO STAR TREK COLLECTABLES TPB (1991) #3
GREETINGS FROM HELL: A POSTCARD BOOK BY MATT GROENING (1989) #1
GUARDIANS OF THE GALAXY: EARTH SHALL OVERCOME HC (2009) #1
GUARDIANS OF THE GALAXY: EARTH SHALL OVERCOME HC (2009) #1 VARIANT
GUARDIANS OF THE GALAXY: QUEST FOR THE SHIELD TP #1
HACK SLASH OMNIBUS TPB (2009) #2
HALO GRAPHIC NOVEL HC (2006) #1
HALO: AN ANGEL'S STORY TPB #1
HARBINGER TPB #1 UNBAGGED
HARDY BOYS: SHHHHH GN (VOL. 16) (2009) #1
HATE VOL. 4: BUDDY GO HOME TPB (1997) #1 SIGNED
HATE VOL. 6: BUDDY BITES THE BULLET TPB (2001) #1
HAWKMAN: ENEMIES AND ALLIES TPB (2004) #1
HEARTBREAKERS: BUST OUT TPB #1
HECTIC PLANET: CHECKERED PAST TPB #1
HEDGE KNIGHT HC (2006) #1 VARIANT
HEDGE KNIGHT TPB (2007) #1
HEDGE KNIGHT: SWORN SWORD PREMIERE HC (2008) #1
HELLBLAZER: STARING AT THE WALL TPB (2005) #1
HELLBOY WEIRD TALES TPB (2003) #2 2ND PRINT
HELLBOY: CONQUEROR WORM TPB (VOL. 5) (2004) #1 7TH PRINT
HELLBOY: RIGHT HAND OF DOOM TPB (VOL. 4) (2004) #1 6TH PRINT
HELLBOY: SEED OF DESTRUCTION TPB (VOL. 1) (2003) #1 9TH PRINT
HELLBOY: THE CHAINED COFFIN & OTHERS TPB (2004) #1 8TH PRINT
HELLBOY: TROLL WITCH & OTHERS TPB (VOL. 7) (2007) #1 3RD PRINT
HELLBOY: WAKE THE DEVIL TPB (VOL. 2) (2003) #1 9TH PRINT
HERCULES: FULL CIRCLE GN #1
HERO ALLIANCE: END OF THE GOLDEN AGE GN #1
HERO SANDWICH: NO ONE LIVES FOREVER TPB (1989) #1
HEROES FOR HIRE: CIVIL WAR TPB (2007) #1
HEROES FOR HIRE: WORLD WAR HULK TPB (VOL. 3) (2007) #1
HEROES REBORN: AVENGERS TPB (2006) #1
HEROES REBORN: CAPTAIN AMERICA TPB (2006) #1
HEROES REBORN: IRON MAN TPB (2006) #1
HOLLOW-EYED MARY GN (2009) #1
HOOD PREMIERE HC (2007) #1
HOUSE OF M: AVENGERS TPB (2008) #1
HOUSE OF M: FANTASTIC FOUR/IRON MAN TPB (2006) #1
HOUSE OF M: INCREDIBLE HULK TPB (2006) #1
HOUSE OF M: SPIDER-MAN TPB (2006) #1
HOUSE OF M: UNCANNY X-MEN TPB (2006) #1
HOUSE OF M: WORLD OF M TPB (2006) #1
HOW TO DRAW MICKEY MOUSE & FRIENDS #1
HOWARD THE DUCK OMNIBUS (2008) #1 VARIANT
HULK VISIONARIES: PETER DAVID TPB (2005) #4
HULK VS. THE MARVEL UNIVERSE TPB (2008) #1
HULK: HEART OF THE ATOM PREMIERE HC (2008) #1
HULK: HEART OF THE ATOM PREMIERE HC (2008) #1 VARIANT
HULK: PLANET HULK HC (2007) #1
HULK: PLANET HULK PRELUDE TPB (2006) #1
HULK: PLANET HULK TPB (2008) #1
HULK: RED HULK PREMIERE HC (2008) #1
HULK: RED HULK TPB (2009) #1
HULK: THE END PREMIERE HC (2008) #1
HULK: WORLD WAR HULK TPB (2008) #1
HUMAN TARGET: STRIKE ZONES TPB (2004) #1
HUNTER/KILLER TPB (2008) #1
HUNTING PARTY GRAPHIC NOVEL #1 SC
ILLUSTRATED KAMA SUTRA #1
IMAGINATION: ART TECHNIQUE OF DAVID CHERRY #1
IMMORTAL IRON FIST PREMIERE HC (2007) #2
IMMORTAL IRON FIST PREMIERE HC (2007) #3
IMMORTAL IRON FIST TPB (2007) #2
IMPACT WHO'S WHO (LOOSE LEAF) (1991) #1
IMPACT WHO'S WHO (LOOSE LEAF) (1991) #2
IMPACT WHO'S WHO (LOOSE LEAF) (1991) #3
INCREDIBLE HERCULES: AGAINST THE WORLD TPB (2008) #1
INCREDIBLE HERCULES: SECRET INVASION PREMIERE HC (2008) #1
INFINITY GAUNTLET TPB (1992) #1 NEW PRINT
INFINITY WAR TPB (2006) #1
INHUMANS GN (1988) #1
INTO EVERY LIFE A LITTLE EDGE MUST FALL COLLECTION (1988) #1
INTO THE SHADOW OF THE SUN: RAEL GN #1
INVADERS CLASSIC TPB (2007) #1
INVADERS CLASSIC TPB (2007) #2
INVINCIBLE IRON MAN OMNIBUS HC (2008) #1 MOVIE ED
INVINCIBLE IRON MAN PREMIERE HC (2008) #1 VARIANT
INVINCIBLE: DIFFERENT WORLD TPB (VOL. 6) (2005) #1 2ND PRINT
INVINCIBLE: FACTS OF LIFE TPB (VOL. 5) (2005) #1 2ND PRINT
INVINCIBLE: MY FAVORITE MARTIAN TPB (VOL. 8) (2007) #1
INVINCIBLE: THREE'S COMPANY TPB (2006) #1 2ND PRINT
INVINCIBLE: ULTIMATE COLL HC (2005) #4
IRON MAN: ARMOR WARS TPB (2006) #1
IRON MAN: DEMON IN A BOTTLE PREMIERE HC (2008) #1
IRON MAN: DIRECTOR OF SHIELD TPB (2007) #1
IRON MAN: DRAGON SEED SAGA TPB (2008) #1
IRON MAN: ENTER THE MANDARIN TPB (2008) #1
IRON MAN: HAUNTED TPB (2008) #1
IRON MAN: HYPERVELOCITY TPB (2007) #1
IRON MAN: LEGACY OF DOOM PREMIERE HC (2008) #1
IRON MAN: MANY ARMORS OF IRON MAN TPB (2008) #1
IRON MAN: WAR MACHINE TPB (2008) #1
IRON MAN: WITH IRON HANDS TPB (2009) #1
IRON MANUAL TPB (2008) #1
JACK KIRBY'S GALACTIC BOUNTY HUNTERS TPB (2008) #1
JACK OF FABLES: JACK OF HEARTS TPB (VOL. 2) (2007) #1 2ND PRINT
JACK OF FABLES: THE BAD PRINCE TPB (VOL. 3) (2008) #1
JACK OF FABLES: TURNING PAGES TPB (VOL. 5) (2009) #1
JAKE THRASH TRADE PAPERBACK #1
JAPAN INC. TPB (1988) #1
JENNY SPARKS: SECRET HISTORY OF THE AUTHORITY TPB (2001) #1
JLA DELUXE EDITION HC (2008) #1
JLA: AMERICAN DREAMS TPB (VOL. 2) (1997) #1 3RD PRINT
JLA: DIVIDED WE FALL TPB (VOL. 8) (2002) #1 3RD PRINT
JLA: EARTH 2 TPB (2000) #1 4TH PRINT
JLA: GREATEST STORIES EVER TOLD TPB (2006) #1
JLA: NEW WORLD ORDER TPB (VOL. 1) #1 5TH PRINT
JLA: ONE MILLION TPB (2004) #1 2ND PRINT
JLA: PAIN OF THE GODS TPB (VOL. 16) (2005) #1 2ND PRINT
JLA: STRENGTH IN NUMBERS TPB (VOL. 4) #1 4TH PRINT
JLA: SYNDICATE RULES TPB (VOL. 17) (2005) #1
JLA: TERROR INCOGNITA TPB (VOL. 9) (2002) #1
JLA: THAT WAS THEN, THIS IS NOW TPB (2008) #1
JLA: TOWER OF BABEL TPB (VOL. 7) (2001) #1 5TH PRINT
JLA: TRIAL BY FIRE TPB (VOL. 14) (2004) #1
JLA: WORLD WAR III TPB (VOL. 6) #1 4TH PRINT
JLA: WORLD WITHOUT A JUSTICE LEAGUE TPB (VOL. 19) (2006) #1
JONAH HEX: FACE FULL OF VIOLENCE TPB (2006) #1
JONAH HEX: LUCK RUNS OUT TPB (2008) #1
JOURNEY SAGA BOOK #1
JOURNEY TPB (2008) #1
JOURNEY TPB (2008) #2
JSA: DARKNESS FALLS TPB (2001) #1 3RD PRINT
JSA: PRINCES OF DARKNESS TPB (VOL. 7) (2005) #1 2ND PRINT
JSA: RETURN OF HAWKMAN TPB (2002) #1 2ND PRINT
JSA: STEALING THUNDER TPB (VOL. 5) (2003) #1
JSA: STEALING THUNDER TPB (VOL. 5) (2003) #1 2ND PRINT
JUDGE DREDD'S CRIME FILE VOLUME #1
JUDGE DREDD'S CRIME FILE VOLUME #2
JUDGE DREDD'S CRIME FILE VOLUME #3
JUDGE DREDD'S CRIME FILE VOLUME #4
JUSTICE LEAGUE ELITE TPB (2005) #1
JUSTICE LEAGUE OF AMERICA TPB (2008) #1
JUSTICE TPB (2008) #2
JUSTICE TPB (2008) #3
KERRY DRAKE TRADE PAPERBACK #2
KERRY DRAKE TRADE PAPERBACK #3
KILLING GIRL TPB (2008) #1
KILLRAVEN GN (1983) #1
KYRA BOOK #1
LADY DEATH: THE RECKONING TPB (1994) #1
LANKHMAR: SWORDS AGAINST SHADOWLAND NOVEL (2008) #1
LASSIE! GET HELP!! CARTOONS BY DANNY SHANAHAN TPB (1990) #1
LAST DEFENDERS TPB (2008) #1
LAST LONELY SATURDAY HC (2006) #1
LEAGUE OF EXTRAORDINARY GENTLEMEN TPB (2002) #1 10TH PRINT
LEAGUE OF EXTRAORDINARY GENTLEMEN TPB (2002) #2 3RD PRINT
LEATHER AND LACE: HOLIDAY IN CAMBODIA TRADE PAPERBACK #1
LEGENDLORE: TALES FROM THE REALM TPB (1989) #1
LEGENDS OF ARZACH: ARZACH GALLERY #3
LEGION OF MONSTERS HC (2007) #1
LEGION OF SUPER-HEROES: ENEMY RISING HC (2008) #1
LEONARD IS A GENIUS #1
LEVIATHAN GN (2004) #1
LEVIATHAN HC (2006) #1
LIBRARIES OF OPERA: PELLEAS & MELISANDE GN (VOL. 3) (2004) #1
LIBRARY OF OPERA HC (2004) #3
LIFE STORY OF THE FLASH HC #1
LIKE A RIVER SC (2003) #1
LITTLE LULU: ALAMO & OTHER STORIES TPB (VOL. 19) (2009) #1
LITTLE SHOP OF HORRORS MOVIE ADAPTATION GN (1986) #1
LONERS TPB (2007) #1
LORDS OF AVALON: SWORD OF DARKNESS HC (2008) #1 VARIANT
MAGIC CRYSTAL GN (1989) #1
MAJESTIC: FINAL CUT TPB (VOL.3) (2006) #1
MAJESTIC: MEANWHILE, BACK ON EARTH TPB (VOL.2) (2006]) #1
MAN FROM HARLEM GN #1
MAN-THING: WHATEVER KNOWS FEAR TPB (2004) #1
MANHUNTER: FORGOTTEN TPB (VOL. 5) (2009) #1
MARS ATTACKS TPB #1
MARTIN MYSTERY #1
MARVEL 1602 HC (2004) #1 VARIANT
MARVEL 1602: FANTASTIK FOUR TPB (2007) #1
MARVEL ADVENTURES SPIDER-MAN: JUMPING DIGEST (VOL. 12) (2009) #1
MARVEL ATLAS TPB (2008) #1
MARVEL CHILLERS: BLOOD STORM #1
MARVEL ENCYCLOPEDIA: SPIDER-MAN HC (VOL. 4) (2003) #1
MARVEL FANFARE TPB (2008) #1
MARVEL ILLUSTRATED: LAST OF THE MOHICANS HC (2008) #1
MARVEL ILLUSTRATED: MAN IN THE IRON MASK HC (2008) #1
MARVEL LEGACY: THE 1960'S-1990'S HANDBOOK TPB (2007) #1
MARVEL MASTERWORKS NEW EDITION: HUMAN TORCH (2006) #2
MARVEL MASTERWORKS NEW EDITION: HUMAN TORCH (2006) #2 VARIANT
MARVEL TEAM-UP: FREEDOM RING TPB (VOL. 4) (2006) #1
MARVEL TEAM-UP: MASTER OF THE RING TPB (VOL. 2) (2005) #1
MARVEL UNIVERSE MASTER EDITION #7
MARVEL ZOMBIES COVERS COLLECTION (2007) #1 HC
MARVEL ZOMBIES HC (2006) #1
MARVEL ZOMBIES HC (2006) #2
MARVEL ZOMBIES HC (2006) #3
MARVEL ZOMBIES TPB (2008) #1 SPIDER-MAN
MARVELS TPB (1994) #1 7TH PRINT
MASK SUMMER VACATION HC #1
MERCENARY GN #3
MERCENARY: THE FORMULA #2 HC
MICRA GRAPHIC ALBUM #1
MIGHTY AVENGERS HC (2007) #1
MIGHTY AVENGERS HC (2007) #2
MIGHTY AVENGERS TPB (2008) #1
MIGHTY AVENGERS TPB (2008) #2
MIGHTY AVENGERS: SECRET INVASION BOOK II TPB (VOL. 4) (2009) #1
MILLENNIUM TPB (2008) #1
MILTON CANIFF'S STEVE CANYON TPB #18
MODERN MASTERS: KYLE BAKER SC (VOL. 20) (2008) #1
MOON KNIGHT: BOTTOM TPB (2006) #1 SC
MOON KNIGHT: BOTTOM TPB (2006) #1
MOON KNIGHT: GOD & COUNTRY HC (VOL. 3) (2008) #1
MOON KNIGHT: GOD & COUNTRY TPB (2008) #1
MOON KNIGHT: MIDNIGHT SUN TPB (2008) #1
MORTAL SOULS TPB (2003) #1
MOVING FORTRESS #1
MR. PUNCH SC GN (1995) #1 5TH PRINT
MS. MARVEL: MONSTER MASH (VOL.4) TPB (2008) #1
MS. MARVEL: MONSTER MASH PREMIERE HC (VOL. 4) (2008) #1
MS. MARVEL: SECRET INVASION PREMIERE HC (VOL. 5) (2008) #1
MYSTIC ARCANA HC (2007) #1
MYTH ADVENTURES GN #1
NATHAN NEVER #1
NATHAN NEVER #2
NATHAN NEVER #3
NATHAN NEVER #4
NATIONAL LAMPOON PRESENTS: VERY LARGE BOOK OF COMICAL (1975) #1
NATIONAL LAMPOON: 199TH BIRTHDAY BOOK (1975) #1
NEW AVENGERS HC (2007) #3
NEW AVENGERS HC (2007) #3 VARIANT
NEW AVENGERS: BREAKOUT TPB (VOL. 1) (2005) #1
NEW AVENGERS: CIVIL WAR TPB (VOL. 5) (2007) #1
NEW AVENGERS: COLLECTIVE (VOL.4) TPB (2007) #1
NEW AVENGERS: ILLUMINATI PREMIERE HC (2008) #1
NEW AVENGERS: ILLUMINATI TPB (2008) #1
NEW AVENGERS: REVOLUTION COLLECTION (VOL.6) (2007) #1 TPB
NEW AVENGERS: SECRET INVASION BOOK II (VOL. 9) (2009) #1
NEW AVENGERS: SECRET INVASION BOOK II (VOL. 9) (2009) #1 VARIANT
NEW AVENGERS: SECRET INVASION PREMIERE HC (VOL.9) (#2) (2008) #1
NEW AVENGERS: SECRETS & LIES TPB (2006) #3
NEW AVENGERS: SENTRY TPB (VOL. 2) (2006) #1
NEW AVENGERS: TRUST (VOL.7) TPB (2008) #1
NEW EXILES TPB (2008) #1
NEW EXILES TPB (2008) #3
NEW MUTANTS CLASSIC TPB (2006) #1
NEW MUTANTS CLASSIC TPB (2006) #2
NEW MUTANTS CLASSIC TPB (2006) #3
NEW MUTANTS CLASSIC TPB (2006) #4
NEW MUTANTS GN (MARVEL GN #4) (1982) #1
NEW TEEN TITANS: JUDAS CONTRACT TPB - NEW EDITION (2003) #1 4TH PRINT
NEW VOYAGES: NEXT GENERATION SOURCEBOOK #1
NEW WARRIORS TPB (2008) #1
NEW WARRIORS TPB (2008) #2
NEW X-MEN BY MORRISON ULTIMATE COLLECTION TPB (2008) #1
NEW X-MEN BY MORRISON ULTIMATE COLLECTION TPB (2008) #2
NEW X-MEN: CHILDHOOD'S END TPB (2006) #1
NEW X-MEN: CHILDHOOD'S END TPB (2006) #3
NEW X-MEN: CHILDHOOD'S END TPB (2006) #4
NEW X-MEN: CHILDHOOD'S END TPB (2006) #5
NEW X-MEN: IMPERIAL TPB (2002) #1 3RD PRINT
NEW X-MEN: NEW WORLDS TPB (VOL. 3) (2002) #1 2ND PRINT
NEW X-MEN: RIOT AT XAVIER'S TPB (VOL. 4) (2003) #1 3RD PRINT
NEW X-MEN: RIOT AT XAVIER'S TPB (VOL. 4) (2003) #1 2ND PRINT
NEWUNIVERSAL: EVERYTHING WENT WHITE HC (2007) #1
NEXTWAVE PREMIERE HC (2006) #1
NEXTWAVE: THIS IS WHAT THEY WANT TPB (2006) #1
NEXUS: THE ORIGINAL NEXUS GRAPHIC NOVEL #1 2ND PRT
NIGHT AND THE ENEMY GN (1988) #1 2ND PRINT
NIGHT STREETS (TPB) (CAL) #2
NINTENDO COMICS SYSTEM (GN) #1
NORTHLANDERS TPB (2008) #1
NOVA TPB (2007) #2
NOVA TPB (2007) #3
NOVA TPB (2007) #4
NUMBER OF THE BEAST TPB (2008) #1
ODEN GN (1988) #1
OFFICIAL HANDBOOK OF THE MARVEL UNIVERSE A-Z HC (2008) #2
OH MY GODDESS: COLORS TPB (2008) #1
OMEGA FLIGHT: ALPHA TO OMEGA TPB (2007) #1
OMEGA: THE UNKNOWN PREMIERE HC (2008) #1 VARIANT
ONSLAUGHT REBORN TPB (2008) #1
OPERATIVE: SCORPIO GN #1
ORDER TPB (2008) #1
ORDER TPB (2008) #2
ORIGINAL DICK TRACY GN #3
OUTER STATES GN #1
OUTLAW NATION TPB (2006) #1
OUTSIDERS: CRISIS INTERVENTION TPB (VOL. 4) (2006) #1
OUTSIDERS: FIVE OF A KIND TPB (2008) #1
OUTSIDERS: LOOKING FOR TROUBLE TPB (VOL. 1) (2004) #1 2ND PRINT
OUTSIDERS: SUM OF ALL EVIL TPB (VOL. 2) (2004) #1 2ND PRINT
OUTSIDERS: WANTED TPB (VOL. 3) (2005) #1
OVERSTREET'S COMIC BOOK PRICE GUIDE #7 SC
PARADISE X TPB (2007) #1
PARADISE X TPB (2007) #2
PENANCE: RELENTLESS TPB (2008) #1
PERHAPANAUTS: TRIANGLE TPB (2009) #1
PETER PARKER: SPIDER-MAN: BACK IN BLACK TPB (2008) #1
PICTOPIA #1
PISTOLWHIP GN (2001) #1
PLANET OF THE APES MOVIE ADAPTATION #1
POWER PACK & CLOAK & DAGGER: SHELTER FROM THE STORM GN (1989) #1
POWERS: COSMIC TPB (VOL. 10) (2006) #1
POWERS: FOREVER TPB (VOL. 7) (2004) #1
POWERS: LEGENDS TPB (VOL. 8) (2005) #1
PREY OVERSIZED GN #1
PUNISHER MAX: BARRACUDA TPB (VOL. 6) (2006) #1
PUNISHER MAX: LONG COLD DARK TPB (VOL. 9) (2008) #1
PUNISHER MAX: SLAVERS TPB (VOL. 5) (2006) #1
PUNISHER MAX: UP IS DOWN AND BLACK IS WHITE TPB (V. 4) (2005) #1
PUNISHER MAX: VALLEY FORGE TPB (VOL. 10) (2008) #1
PUNISHER WAR JOURNAL: CIVIL WAR TPB (VOL.1) (2007) #1
PUNISHER WAR JOURNAL: GOIN OUT WEST (VOL.2) TPB (2008) #1
PUNISHER WAR JOURNAL: HUNTER/HUNTED (VOL.3) TPB (2008) #1
PUNISHER WAR JOURNAL: HUNTER/HUNTED HC (VOL.3) (2008) #1
PUNISHER WAR ZONE: RESURRECTION OF MA GNUCCI HC (2009) #1
PUNISHER WAR ZONE: RESURRECTION OF MA GNUCCI HC (2009) #1 VARIANT
PUNISHER: ASSASSIN'S GUILD GN (1988) #1 2ND PRINT
PUNISHER: BORN COLLECTION (2003) #1 SC
PUNISHER: INTRUDER #1 GN
PUNISHER: INTRUDER #1 HB
QUEEN & COUNTRY DEFINITIVE TPB (2007) #4
QUESTION: WELCOME TO OZ TPB (VOL. 4) (2009) #1
RANKS OF THE BLACK ORDER GN #1
RAW VOL. 2 TPB #3
REALMS GN (1987) #1
RECORD OF LODOSS WAR: LADY OF PHARIS TPB #1
RECORD OF LODOSS WAR: LADY OF PHARIS TPB #1 2ND PRINT
RED PROPHET: TALES OF ALVIN MAKER HC (2007) #1 BOOKMARKET
RED PROPHET: TALES OF ALVIN MAKER TPB (2008) #2
RESURRECTION TPB (2009) #1
RETICENT HEART & OTHER STORIES #1
REVELATIONS GN (1991) #1
REVENGE OF THE LIVING MONOLITH GN (1985) #1
RISING STARS COMPENDIUM TPB (2009) #1
ROBIN: A HERO REBORN TPB (1991) #1
RUNAWAYS: DEAD END KIDS PREMIERE HC (2008) #1
RUSSELL: THE SAGA OF A PEACEFUL MAN #1
SAILOR'S STORY BOOK TWO: WINDS, DREAMS, AND DRAGONS GN #1
SAM BRONX & THE ROBOTS HC (COLLECTION ATOMIC COMICS 2) (1989) #1
SAVAGE SWORD OF CONAN TPB (2007) #2 2ND PRINT
SAVAGE TPB (2009) #1
SCALPED: GRAVEL IN YOUR GUTS TPB (VOL. 4) (2009) #1
SCARLET IN GASLIGHT TRADE PAPERBACK #1
SECRET AGENT X-9 TPB #1
SECRET INVASION: BLACK PANTHER TPB (2009) #1
SECRET INVASION: INCREDIBLE HERCULES TPB (2009) #1
SECRET INVASION: INFILTRATION TPB (2008) #1
SECRET INVASION: RUNAWAYS/YOUNG AVENGERS TPB (2009) #1
SECRET ISLAND OF OZ GN (1986) #1
SECRET OF SAN SABA #1
SECRET WAR COLLECTION (2006) #1
SECRET WARS TPB (2005) #1
SENSATIONAL SPIDER-MAN: FERAL TPB (2007) #1
SERGEANTSTEIN AND HIS MARAUDIN' MONSTERS GN (2005) #1
SHADOW: HITLER'S ASTROLOGER #1 SC
SHATTER TPB #1
SHAZAM: MONSTER SOCIETY OF EVIL TPB (2009) #1
SHE-HULK: HERE TODAY TPB (VOL. 7) (2009) #1
SHE-HULK: JADED TPB (2008) #1
SHE-HULK: SECRET INVASION TPB (VOL. 8) (2009) #1
SHE-HULK: SECRET INVASION TPB (VOL. 8) (2009) #1 VARIANT
SHEENA: QUEEN OF THE JUNGLE TPB (2007) #2
SHELTER TPB #1
SHI: SENRYAKU HC #1
SHOCK XPRESS: ESSENTIAL GUIDE TO EXPLOTATION CINEMA TPB (1991) #1
SHOJO BEAT (VOL.3) (2007) #3
SHOJO BEAT (VOL.3) (2007) #6
SHOJO BEAT (VOL.3) (2007) #7
SHOJO BEAT (VOL.3) (2007) #8
SHOJO BEAT (VOL.3) (2007) #9
SHOJO BEAT (VOL.3) (2007) #10
SHOJO BEAT (VOL.4) (2008) #1
SHOJO BEAT (VOL.4) (2008) #2
SHOJO BEAT (VOL.4) (2008) #2
SHOJO BEAT (VOL.4) (2008) #3
SHONEN JUMP (2002) #3
SHONEN JUMP (2002) #4
SHONEN JUMP (2002) #11
SHONEN JUMP (2002) #26
SHONEN JUMP (2002) #28
SHONEN JUMP (2002) #29
SHONEN JUMP (2002) #30
SHONEN JUMP (2002) #32
SHONEN JUMP (2002) #39
SHONEN JUMP (2002) #44
SHONEN JUMP (2002) #45
SHONEN JUMP (2002) #48
SHONEN JUMP (2002) #51
SHONEN JUMP (2002) #53
SHONEN JUMP (2002) #55
SHONEN JUMP (2002) #69
SHONEN JUMP (2002) #75
SHOWCASE PRESENTS: ADAM STRANGE TPB (2007) #1
SHOWCASE PRESENTS: AMBUSH BUG TPB (2009) #1
SHOWCASE PRESENTS: AQUAMAN TPB (2006) #3
SHOWCASE PRESENTS: BATGIRL TPB (2007) #1
SHOWCASE PRESENTS: BATMAN TPB (2006) #3
SHOWCASE PRESENTS: BLACKHAWK TPB (2008) #1
SHOWCASE PRESENTS: BRAVE & THE BOLD TPB (2006) #3
SHOWCASE PRESENTS: ENEMY ACE TPB (2008) #1
SHOWCASE PRESENTS: HAWKMAN TPB (2006) #1
SHOWCASE PRESENTS: HAWKMAN TPB (2006) #2
SHOWCASE PRESENTS: HOUSE OF MYSTERY TPB (2006) #1 2ND PRINT
SHOWCASE PRESENTS: HOUSE OF MYSTERY TPB (2006) #3
SHOWCASE PRESENTS: LEGION OF SUPER-HEROES TPB (2007) #3
SHOWCASE PRESENTS: SGT. ROCK TPB (2007) #1
SHOWCASE PRESENTS: WONDER WOMAN TPB (2007) #2
SHOWCASE PRESENTS: WORLD'SST TPB (2007) #1
SHOWCASE PRESENTS: WORLD'SST TPB (2007) #2
SHYGIRL GN (2005) #1
SILENT WAR TPB (2007) #1
SILVER SURFER: IN THY NAME TPB (2008) #1
SILVER SURFER: REQUIEM TPB (2008) #1
SIMON DARK: ASHES TPB (2009) #1
SIMON DARK: WHAT SIMON DOES TPB (2008) #1
SIMPSONS COMICS: DOLLARS TO DONUTS (2008) #1
SIMPSONS COMICS: HIT THE ROAD TPB (VOL. 17) (2009) #1
SINNERS GN #1
SOMEPLACE STRANGE (1988) #1
SPARROW TPB #1
SPAWN COLLECTION (2005) #5
SPECTRE: CRIMES & PUNISHMENT TPB #1
SPEED RACER CLASSICS TPB #1
SPEED RACER: ORIGINAL MANGA TPB #1
SPIDER-MAN 2099 TPB (2009) #1
SPIDER-MAN LOVES MARY JANE HC (2007) #2
SPIDER-MAN MOVIE TPB (2002) #1
SPIDER-MAN/BLACK CAT: EVIL THAT MEN DO TPB (2007) #1
SPIDER-MAN/FANTASTIC FOUR: SILVER RAGE TPB (2007) #1
SPIDER-MAN/RED SONJA TPB (2008) #1
SPIDER-MAN: BACK IN BLACK HC (2007) #1
SPIDER-MAN: BIRTH OF VENOM TPB (2007) #1 VENOM
SPIDER-MAN: BRAND NEW DAY PREMEIRE HC (2008) #1
SPIDER-MAN: BRAND NEW DAY PREMEIRE HC (2008) #2
SPIDER-MAN: BRAND NEW DAY PREMEIRE HC (2008) #3
SPIDER-MAN: BRAND NEW DAY TPB (2008) #1
SPIDER-MAN: BRAND NEW DAY TPB (2008) #2
SPIDER-MAN: BREAKOUT TPB (2005) #1
SPIDER-MAN: CRIME AND PUNISHER PREMIERE HC (2009) #1
SPIDER-MAN: DEATH OF THE STACYS PREMIERE HC (2006) #1
SPIDER-MAN: HOOKY GN (1986) #1
SPIDER-MAN: KRAVEN'S FIRST HUNT PREMIERE HC (2008) #1
SPIDER-MAN: MAXIMUM CARNAGE TPB (1994) #1 3RD PRINT
SPIDER-MAN: NOTHING CAN STOP THE JUGGERNAUT TPB #1
SPIDER-MAN: ONE MORE DAY PREMIERE HC (2008) #1 VARIANT
SPIDER-MAN: ONE MORE DAY TPB (2008) #1
SPIDER-MAN: OTHER COLLECTION (2006) #1 TPB VAR
SPIDER-MAN: PARALLEL LIVES GN (1989) #1
SPIDER-MAN: REIGN TPB (2008) #1
STAR SLAMMERS GN (MARVEL GRAPHIC NOVEL #6) (1983) #1
STAR TREK ENTERPRISE LOGS TPB #3 VARIANT
STAR TREK: MR. SCOTT'S GUIDE TO THE ENTERPRISE #1
STAR WARS ADVENTURES TPB (2009) #1
STAR WARS CLONE WARS: WHEN THEY WERE BROTHERS TPB (V.7) (2005) #1 4TH PRINT
STAR WARS OMNIBUS: EARLY VICTORIES TPB (2008) #1
STAR WARS: A NEW HOPE-MANGA #1
STAR WARS: A NEW HOPE-MANGA #2
STAR WARS: A NEW HOPE-MANGA #3
STAR WARS: A NEW HOPE-MANGA #4
STAR WARS: EMPIRE STRIKES BACK-MANGA #1
STAR WARS: EMPIRE STRIKES BACK-MANGA #3
STAR WARS: LEGACY TPB (2006) #3 2ND PRINT
STAR WARS: LEGACY TPB (2006) #4
STAR WARS: LEGACY TPB (2006) #5
STAR WARS: RETURN OF THE JEDI-MANGA #2
STARMAN OMNIBUS HC (2008) #1
STARMAN OMNIBUS HC (2008) #2
STEWART THE RAT #1
STORM TPB (2008) #1
STORM: THE LAST FIGHTER #1
STORY OF O TPB #1
SUB-MARINER TPB (2008) #1
SUBTERRA #1
SUBURBAN NIGHTMARES: THE SCIENCE EXPERIMENT GN #1
SUPER BOXERS GN (MARVEL GRAPHIC NOVEL #8) (1983) #1
SUPERGIRL: WAY OF THE WORLD TPB (2009) #1
SUPERMAN & BATMAN: GENERATIONS II TPB (2003) #1
SUPERMAN CHRONICLES TPB (2006) #6
SUPERMAN: ADVENTURES OF THE MAN OF STEEL TPB #1
SUPERMAN: BRAINIAC HC (2009) #1
SUPERMAN: MAN OF STEEL TPB (2003) #4
SUPERNATURAL: RISING SON TPB (2009) #1
SUPERWEST COMICS GN (1987) #1 HC
SUPREME POWER: POWERS AND PRINCIPALITIES HC (2009) #1
SURVIVORS: EYES THAT BURNED #1
SWORDS OF THE SWASHBUCKLERS GN (1984) #1
TALES FROM THE CRYPT: YOU TOOMB GN (VOL. 6) (2009) #1
TALES FROM THE TWOPENNY INN #1
TALES OF THE DARKKNIGHT TPB #1
TALES OF THE MYSTERIOUS TRAVELER TPB #1
TEEN TITANS SPOTLIGHT: CYBORG TPB (2009) #1
TEEN-AGED DOPE SLAVES AND REFORM SCHOOL GIRLS TPB #1
TEENAGE MUTANT NINJA TURTLES: CHALLENGES GN (1991) #1
TELL ME DARK GN TPB #1
TERMINATOR: SALVATION MOVIE PREQUEL TPB (2009) #1
TERROR, INC. TPB (2008) #1
TEX ARCANA #1
THOR BY STRACZYNSKI TPB (2008) #1
THOR: AGES OF THUNDER HC (2009) #1
THORGAL GN (1986) #1 HC
THRILLING PLANET TALES TPB #1
THUNDERBOLT JAXON TPB (2007) #1
THUNDERBOLTS: CAGED ANGELS PREMIERE HC (VOL. 2) (2008) #1
THUNDERBOLTS: CAGED ANGELS TPB (VOL.2) (2008) #1
THUNDERBOLTS: GUARDIAN PROTOCOLS TPB (2007) #1
THUNDERCATS ANNUAL #1
TIME BEAVERS GN (1985) #1
TORPEDO 1936 VOLUME #4
TORPEDO 1936 VOLUME #6
TOWN THAT DIDN'T EXIST GN #1
TRANSFORMERS COLLECTED COMICS SPECIAL (UK MAG) #2
TRANSFORMERS: ANIMATED TPB (2008) #8
TWELVE PREMIERE HC (2008) #1
ULTIMATE ANNUALS TPB (2005) #1
ULTIMATE ANNUALS TPB (2005) #2
ULTIMATE ELEKTRA: DEVIL'S DUE TPB (2005) #1
ULTIMATE FANTASTIC FOUR HC (2005) #1
ULTIMATE FANTASTIC FOUR HC (2005) #3
ULTIMATE FANTASTIC FOUR HC (2005) #5
ULTIMATE FANTASTIC FOUR: CROSSOVER TPB (VOL. 5) (2006) #1
ULTIMATE FANTASTIC FOUR: DEVILS TPB (VOL. 8) (2007) #1
ULTIMATE FANTASTIC FOUR: DOOM TPB (VOL. 2) (2004) #1 2ND PRINT
ULTIMATE FANTASTIC FOUR: FANTASTIC TPB (VOL. 1) (2004) #1 2ND PRINT
ULTIMATE FANTASTIC FOUR: FRIGHTFUL TPB (VOL. 6) (2006) #1
ULTIMATE FANTASTIC FOUR: GHOSTS TPB (VOL. 10) (2008) #1
ULTIMATE FANTASTIC FOUR: GOD WAR TPB (VOL. 7) (2007) #1
ULTIMATE FANTASTIC FOUR: INHUMAN TPB (VOL. 4) (2005) #1
ULTIMATE FANTASTIC FOUR: N-ZONE TPB (VOL. 3) (2005) #1
ULTIMATE FANTASTIC FOUR: SALEM'S SEVEN TPB (VOL. 11) (2008) #1
ULTIMATE FANTASTIC FOUR: SILVER SURFER TPB (VOL. 9) (2007) #1
ULTIMATE GALACTUS TRILOGY HC (2007) #1
ULTIMATE GALACTUS: SECRET TPB (VOL. 2) (2005) #1
ULTIMATE GNATRAT TPB (1990) #1
ULTIMATE HULK VS. IRON MAN: ULTIMATE HUMAN TPB (2008) #1
ULTIMATE HUMAN HC (2008) #1
ULTIMATE IRON MAN II PREMIERE HC (2008) #1 VARIANT
ULTIMATE MARVEL TEAM-UP ULTIMATE COLLECTION TPB (2006) #1
ULTIMATE ORIGINS PREMIERE HC (2008) #1
ULTIMATE POWER HC (2008) #1
ULTIMATE POWER TPB (2008) #1
ULTIMATE SPIDER-MAN HC (2002) #1 2ND PRINT
ULTIMATE SPIDER-MAN HC (2002) #3
ULTIMATE SPIDER-MAN HC (2002) #8
ULTIMATE SPIDER-MAN HC (2002) #9
ULTIMATE SPIDER-MAN TPB #1 6TH PRINT
ULTIMATE SPIDER-MAN TPB #2 6TH PRINT
ULTIMATE SPIDER-MAN TPB #2 PLATINUM
ULTIMATE SPIDER-MAN TPB #3 4TH PRINT
ULTIMATE SPIDER-MAN TPB #4 4TH PRINT
ULTIMATE SPIDER-MAN TPB #6 4TH PRINT
ULTIMATE SPIDER-MAN TPB #7 4TH PRINT
ULTIMATE SPIDER-MAN TPB #8
ULTIMATE SPIDER-MAN TPB #9 2ND PRINT
ULTIMATE SPIDER-MAN TPB #10 2ND PRINT
ULTIMATE SPIDER-MAN TPB #11
ULTIMATE SPIDER-MAN TPB #12
ULTIMATE SPIDER-MAN TPB #13
ULTIMATE SPIDER-MAN TPB #14
ULTIMATE SPIDER-MAN TPB #15
ULTIMATE SPIDER-MAN TPB #16
ULTIMATE SPIDER-MAN TPB #17
ULTIMATE SPIDER-MAN TPB #18
ULTIMATE SPIDER-MAN TPB #19
ULTIMATE SPIDER-MAN ULTIMATE COLLECTION TPB (2007) #1
ULTIMATE SPIDER-MAN: CLONE SAGA PREMIERE HC (2007) #1
ULTIMATE SPIDER-MAN: VENOM PREMIERE HC (2007) #1
ULTIMATE VISION TPB (2007) #1
ULTIMATE X-MEN HC (2002) #8
ULTIMATE X-MEN TPB (2001) #1 4TH PRINT
ULTIMATE X-MEN TPB (2001) #2 3RD PRINT
ULTIMATE X-MEN TPB (2001) #2 4TH PRINT
ULTIMATE X-MEN TPB (2001) #3 3RD PRINT
ULTIMATE X-MEN TPB (2001) #4 3RD PRINT
ULTIMATE X-MEN TPB (2001) #5 2ND PRINT
ULTIMATE X-MEN TPB (2001) #6 4TH PRINT
ULTIMATE X-MEN TPB (2001) #6
ULTIMATE X-MEN TPB (2001) #7 2ND PRINT
ULTIMATE X-MEN TPB (2001) #7
ULTIMATE X-MEN TPB (2001) #8
ULTIMATE X-MEN TPB (2001) #8 2ND PRINT
ULTIMATE X-MEN TPB (2001) #10
ULTIMATE X-MEN TPB (2001) #11 3RD PRINT
ULTIMATE X-MEN TPB (2001) #12
ULTIMATE X-MEN TPB (2001) #14
ULTIMATE X-MEN TPB (2001) #15
ULTIMATE X-MEN TPB (2001) #16
ULTIMATE X-MEN TPB (2001) #17
ULTIMATE X-MEN TPB (2001) #18
ULTIMATE X-MEN TPB (2001) #19
ULTIMATE X-MEN: ULTIMATE COLLECTION TPB (2006) #1
ULTIMATE X-MEN: ULTIMATE COLLECTION TPB (2006) #2
ULTIMATE X-MEN: ULTIMATE COLLECTION TPB (SPANISH) (2008) #1
UNCANNY X-MEN NEW AGE: FIRST FORSAKEN TPB (VOL. 5) (2006) #1
UNCANNY X-MEN OMNIBUS HC (2006) #1
UNCANNY X-MEN: RISE & FALL OF THE SHI'AR EMPIRE TPB (2008) #1
UNIVERSAL WAR ONE PREMIERE HC (2008) #1
V FOR VENDETTA TPB (1990) #1 15TH PRINT
VALERIAN: HEROES OF THE EQUINOX GN (1983) #1
VALERIAN: WELCOME TO ALFLOLOL #1
VALERIAN: WORLD WITHOUT STARS #1
VALKYRIE: PRISONER OF THE PAST (ECL) #1 GRAPHIC
VAN HALEN LIVE TPB #1
VARIABLE SYNDROME NOVEL (1981) #1
VIETNAM JOURNAL: INDIAN COUNTRY TPB (VOL. 1) (1990) #1
VOYAGES GN (1983) #1
WAKE GN (2000) #1
WAR OF THE WORLDS: TRADE PAPERBACK #1
WAR THAT TIME FORGOT TPB (2009) #1
WATCHMEN HC (2008) #1
WATCHMEN TPB #1 22ND PRINT
WATCHMEN: ABSOLUTE EDITION HC (2005) #1
WEIRD TALES #291
WHAT IF CLASSIC TPB (2004) #1
WHAT IF CLASSIC TPB (2004) #2
WHAT IF CLASSIC TPB (2004) #5
WHAT IF: CIVIL WAR TPB (2008) #1
WHEN DINOSAURS RULED THE SCREEN TPB (1992) #1
WHITEOUT TPB #1 2ND PRINT
WHITEOUT: DEFINITVE EDITION TPB (2007) #2
WHO'S WHO IN THE DC UNIVERSE (LOOSE-LEAF) #1
WHO'S WHO IN THE DC UNIVERSE (LOOSE-LEAF) #2
WHO'S WHO IN THE DC UNIVERSE (LOOSE-LEAF) #3
WHO'S WHO IN THE DC UNIVERSE (LOOSE-LEAF) #4
WHO'S WHO IN THE DC UNIVERSE (LOOSE-LEAF) #8
WHO'S WHO IN THE DC UNIVERSE (LOOSE-LEAF) #12
WHO'S WHO IN THE DC UNIVERSE (LOOSE-LEAF) #14
WHO'S WHO IN THE DC UNIVERSE (LOOSE-LEAF) #15
WHO'S WHO UPDATE 1993 (LOOSE-LEAF) #1
WILD WEST SHOW TPB #1
WILDC.A.T.S. TPB #1 BAGGED
WILDC.A.T.S. TPB #1
WITCHBLADE COMPENDIUM ED TPB (2006) #2
WITCHBLADE: DISTINCTIONS TPB (VOL. 4) (2001) #1
WITCHBLADE: ORIGINS TPB (2001) #1 PHOTO
WITCHCRAFT TPB #1
WOLVERINE: LOGAN PREMIERE HC (2008) #1
WOLVERINE: NOT DEAD YET PREMIERE HC (2009) #1
WOLVERINE: NOT DEAD YET PREMIERE HC (2009) #1 VARIANT
WOLVERINE: ORIGINS TPB (2007) #2
WOLVERINE: PRODIGAL SON GN (2009) #1
WOMEN OF MARVEL TPB (2006) #2
WORLD OF GINGER FOX GN (1986) #1
WORLD WAR III TPB (2007) #1
X-FORCE TPB (2009) #1
X-MEN MOVIE TPB #1 MAGNETO
X-MEN MOVIE TPB #1 X PHOTO
X-MEN OMNIBUS HC (2009) #1
X-MEN OMNIBUS HC (2009) #1 VARIANT
X-MEN: DOMINANT SPECIES TPB (VOL. 2) (2003) #1 2ND PRINT
X-MEN: FIRST CLASS HC (2007) #1
X-MEN: FIRST CLASS-BAND OF BROTHERS TPB (2008) #1
X-MEN: GOD LOVES, MAN KILLS GN (1982) #1
X-MEN: MESSIAH COMPLEX HC (2008) #1
X-MEN: PHOENIX RISING TPB #1
X-MEN: PROTEUS HC (2009) #1
X-MEN: PROTEUS HC (2009) #1 VARIANT
X-MEN: THE MOVIE BEGINNINGS TPB (2000) #1
X-O MANOWAR TPB #1
X-THIEVES GN #1
X-THIEVES GN #2
X-THIEVES GN #3
X-THIEVES GN #4
XANTH GRAPHIC NOVEL #1
XL GN #1
Y-THE LAST MAN HC (2008) #1
YOUNG BLUEBERRY HC #6 S&N
YOUNG X-MEN TPB (2008) #1
ZEN INTG. NINJA: ALTERNITY SAGA TPB #1
ZERO HOUR TRADE PAPERBACK #1 3RD PRINT

View past eMail Newsletters:
[April 27, 2009] - [April 24, 2009] - [April 22, 2009] - [April 20, 2009] - [April 17, 2009]